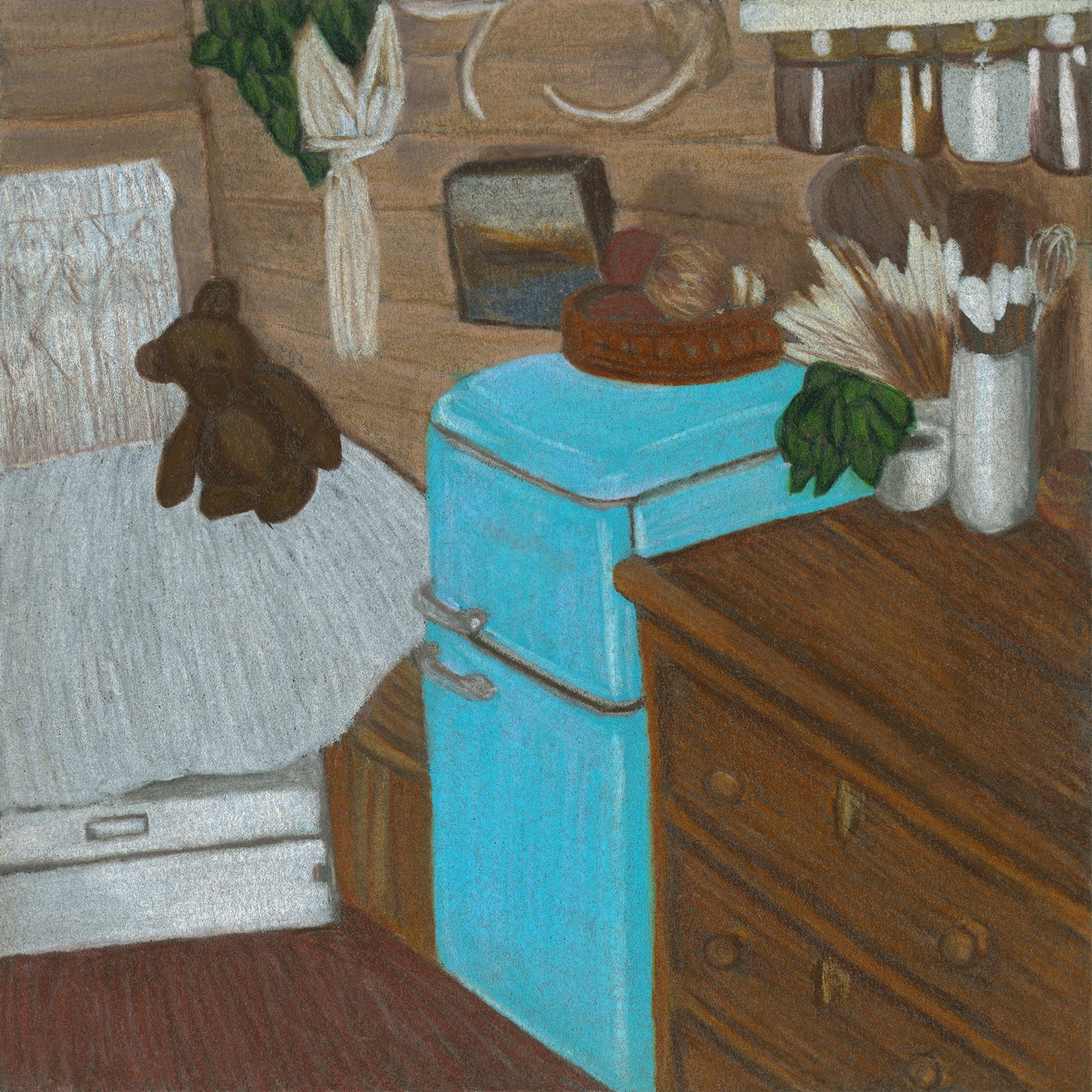 Description
Medium & Paper
Print Options
Seeking a life of adventure and freedom from living in a system of high rent prices, van life was calling my name. Once I'd decided it was time to make it a reality, it turned out to be one of the greatest decisions I ever made. After about 6 months of turning it into a cozy home, my van was ready to go and I couldn't have imagined how blissful it would be.
The feeling of total freedom and an always open-road, plus knowing I have everything I ever needed right here with me felt like a total dream. Sure there were a few sacrifices (mostly letting go of the everyday "conveniences" - shower, bathroom etc.), but getting creative with those was SO worth trade for the ability to live so freely. Road trips into the mountains and festival adventures became even more magical (how often do you get to wake up in your own cozy bed, take a peek out the window and see a beautiful waterfall right in front of you?!)
One of my fondest memories was spending time surfing in Tofino. Warming up with a blanket and some hot tea after an epic morning catching waves, I had this moment of realization and appreciation that, anywhere I decided I want to live - I could. And because I had everything I ever needed with me - it was as easy as just changing my mindset. "Ok, I love it here - I'm gonna live here now". And so it was… as simple as that.
Medium: Faber-Castell Polychromos Color Pencil Painting, Caran D-Ache Luminance, and Derwent Lightfast Oil-based Coloured Pencils.

Paper: Strathmore Artist Tiles | 6" x 6" | 15.3 x 15.3 cm | 60 lb. | 160 g/m2 

Original: Includes professionally framed in a white frame, acid free, straight fit, Ultravue 70% glass and acid free backing with a wire backing. Bio, Certificate of Authenticity, and their individual story. 
Size:  6" x 6" | Framed 7 ⅛" SQUARE and ¾" deep
Pre-Order Limited Edition Print to Canvas: I have my artwork professionally scanned locally here in Vancouver, B.C. and printed to canvas using eco-solvent inks with a satin finish, gallery wrapped, and saw hook. Bio, Certificate of Authenticity, and their individual story is also included.
Size: 6 x 6 inches
Image Disclaimer: The actual product may vary from the image shown on this page. Every interface, monitor, browser or display will have different variations and capabilities to display textures, colours and finishes and the image should not be relied upon in that regard. We cannot guarantee an exact match between what is illustrated in the image and the true textures, colours and finishes of the actual product.