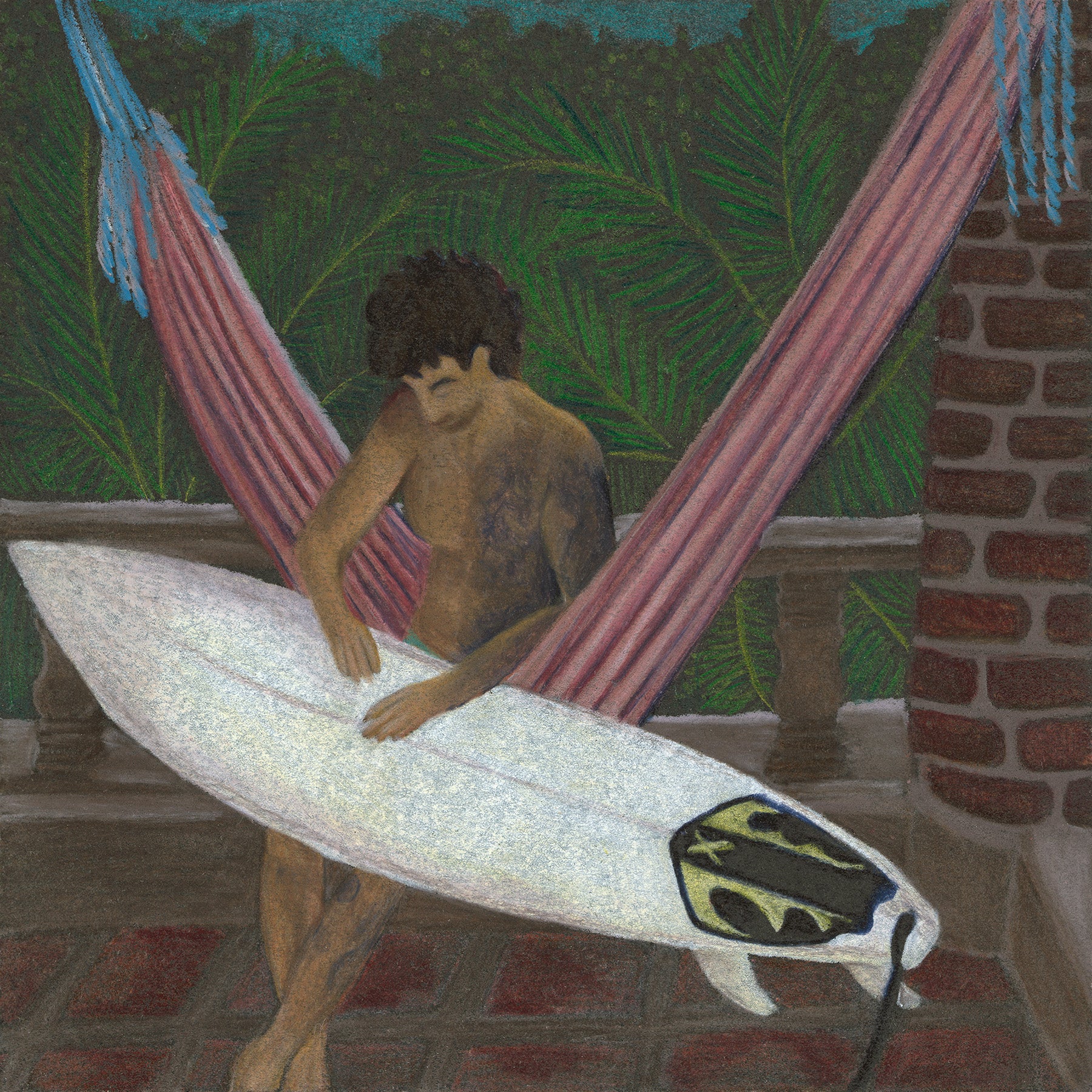 The Next Canadian Kelly Slater
Description
Medium & Paper
Print Options
I took a trip to Panama that revolved around surfing. Two and a half months - surf everyday. That was my goal. Progression. Surfing takes a lot of time to understand. Also, my girlfriend at the time was coming to meet me at the end of the trip and she was a way better surfer than me. I needed to become the Canadian Kelly Slater by the time she got there. After the first few weeks in Panama, I had heard whispers of a surf break located way off of the beaten path that had just made it into a surf magazine and was now getting worldwide attention. I heard it was massive... but easy to ride. Sounded like the perfect training grounds. So off I went. 
Getting there was an adventure in itself. The small town located closest to the break was a two hour hitchhike from the highway, and once you got there the wave itself was a literal mile off shore. You had to paddle for thirty minutes straight into the ocean to get there, but once you did, it was totally worth it. It was big and super fast to ride once you got on it, but definitely intimidating. Terrifying watching a wall of water charge full speed at you from the depths of the Pacific Ocean. Straight from Davy Jones himself. It beat me and threw me around the first few days, but once I figured it out, it was a spot that I will remember for the rest of my life. It was beautiful, sitting out in the middle of the Ocean, calm and serene, waiting for the next set of waves to come and just staring at the shoreline that was dense jungle, watching thunderstorms roll through in the distance. I could write another two paragraphs about this spot alone, but in short, I took risks and put myself way out of my comfort zone to try and accomplish something that I considered to be incredibly difficult. In the end, all of that discomfort paid off tenfold. It usually does.
Medium: Faber-Castell Polychromos Color Pencil Painting, Caran D-Ache Luminance, and Derwent Lightfast Oil-based Coloured Pencils.

Paper: Strathmore Artist Tiles | 6" x 6" | 15.3 x 15.3 cm | 60 lb. | 160 g/m2 

Original: Includes professionally framed in a white frame, acid free, straight fit, Ultravue 70% glass and acid free backing with a wire backing. Bio, Certificate of Authenticity, and their individual story. 
Size:  6" x 6" | Framed 7 ⅛" SQUARE and ¾" deep
Pre-Order Limited Edition Print to Canvas: I have my artwork professionally scanned locally here in Vancouver, B.C. and printed to canvas using eco-solvent inks with a satin finish, gallery wrapped, and saw hook. Bio, Certificate of Authenticity, and their individual story is also included.
Size: 6 x 6 inches
The Next Canadian Kelly Slater
Image Disclaimer: The actual product may vary from the image shown on this page. Every interface, monitor, browser or display will have different variations and capabilities to display textures, colours and finishes and the image should not be relied upon in that regard. We cannot guarantee an exact match between what is illustrated in the image and the true textures, colours and finishes of the actual product.