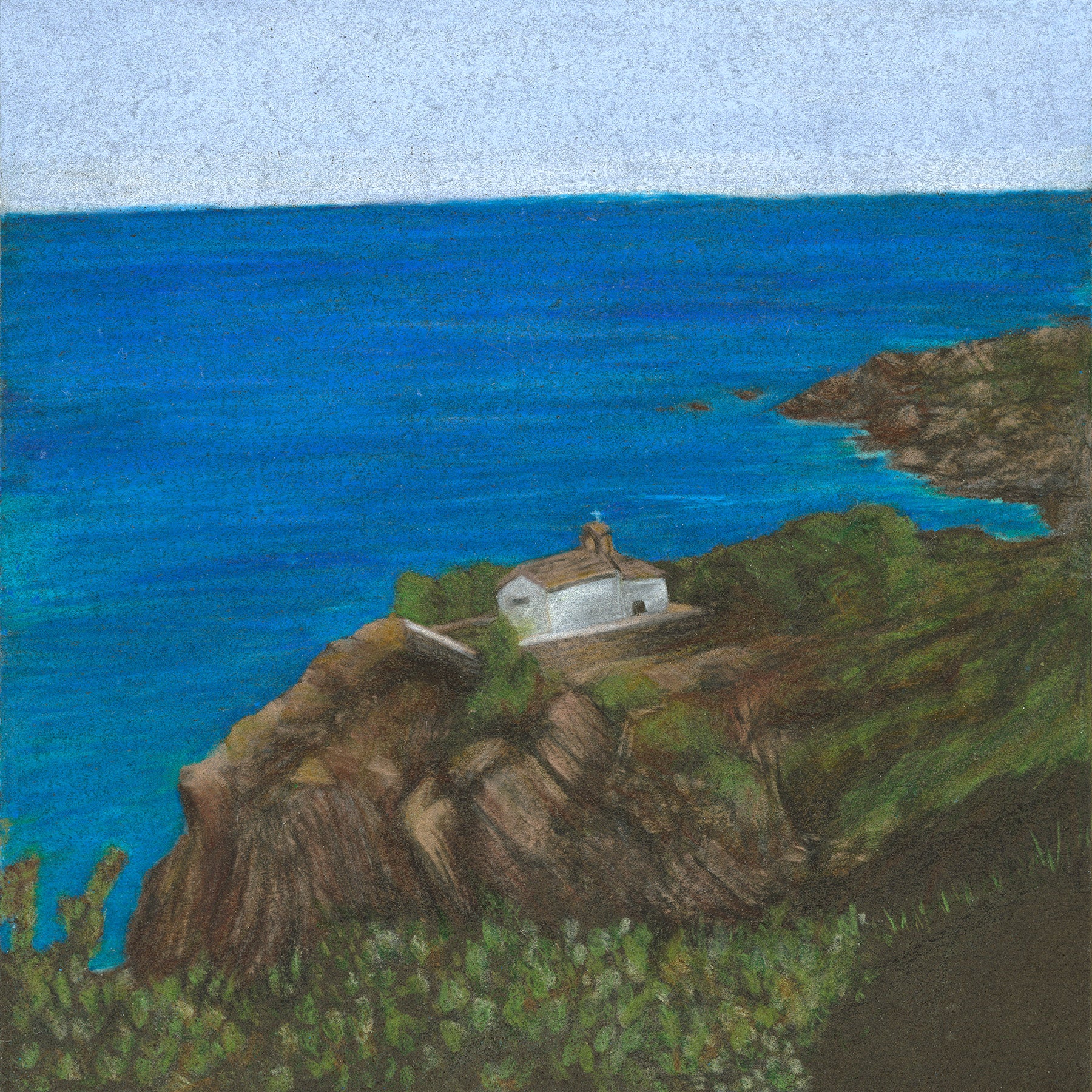 Description
Medium & Paper
Print Options
I've had the incredible privilege to spend the better part of my formative summers growing up on the Greek islands. We had a family house on Spetses, two hours from Piraeus. As a Greek-Canadian I've always felt a bit of an outsider in both places. I could never really sing the Greek songs with my cousins in the Greek nightclubs. On the flip side, I missed the welcoming embrace of Greek philoxenia (the love of strangers) in Vancouver.
All of this changed when I first discovered the far flung island of Ikaria. One of the blue zones of the world and a place where they say time stands still, Ikaria was a refuge for communists exiled from mainland Greece. People move slower here. They eat well. They drink well. They celebrate in town squares in the summer. They take the time to wave, and smile and really ask pos eisai (how are you)? It's easy to feel their love and their care. Ikaria is a mystical place where the soul can rest and say: I'm Home.
Medium: Faber-Castell Polychromos Color Pencil Painting, Caran D-Ache Luminance, and Derwent Lightfast Oil-based Coloured Pencils.

Paper: Strathmore Artist Tiles | 6" x 6" | 15.3 x 15.3 cm | 60 lb. | 160 g/m2 

Original: Includes professionally framed in a white frame, acid free, straight fit, Ultravue 70% glass and acid free backing with a wire backing. Bio, Certificate of Authenticity, and their individual story. 
Size:  6" x 6" | Framed 7 ⅛" SQUARE and ¾" deep
Pre-Order Limited Edition Print to Canvas: I have my artwork professionally scanned locally here in Vancouver, B.C. and printed to canvas using eco-solvent inks with a satin finish, gallery wrapped, and saw hook. Bio, Certificate of Authenticity, and their individual story is also included.
Size: 6 x 6 inches
Image Disclaimer: The actual product may vary from the image shown on this page. Every interface, monitor, browser or display will have different variations and capabilities to display textures, colours and finishes and the image should not be relied upon in that regard. We cannot guarantee an exact match between what is illustrated in the image and the true textures, colours and finishes of the actual product.