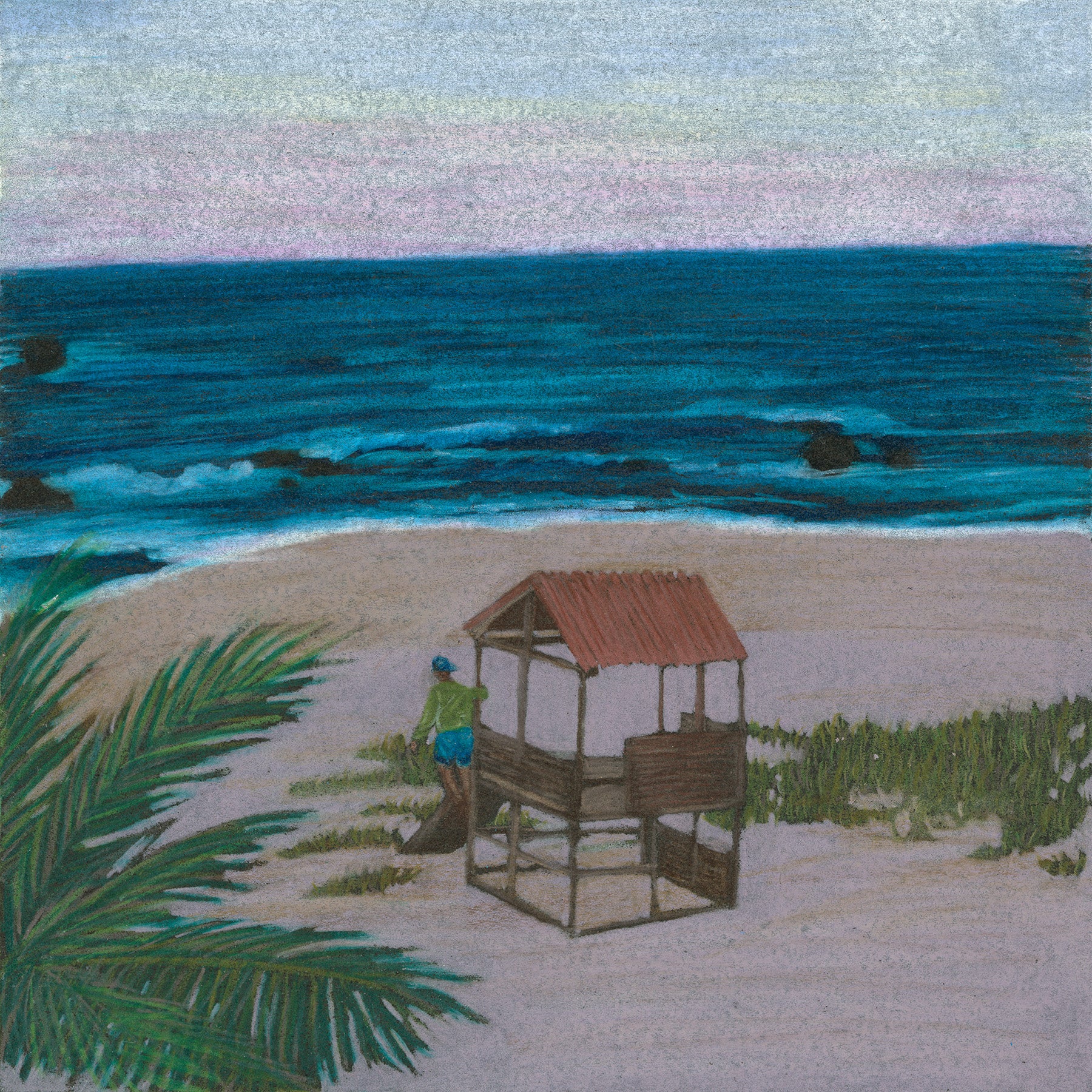 Description
Medium & Paper
Print Options
Mexico was my time to let myself be free and escape the gray blanket Vancouver often experiences for months at a time. I decided to fly into one of Mexico's larger cities and book my accommodation at an adult only green guest house (not that I dislike children, I just find that without them states of relaxation and healing for me tend to take place tenfold). A great recommendation from one of the women who worked there was to check out a cocktail bar across the city. That aesthetic lured me in; I was greeted by incredibly warmhearted staff who made amazing passion fruit mezcal margaritas. One bartender was a mixologist, extremely talented in his craft, and the other was a beginner tattoo artist. I'll have to admit I drank a few, and time passed more quickly as it usually does with great company and good conversation. I had to get back to my hotel and the Uber dropped me off outside of the gated entrance. 
My hotel room had doors leading out into the gardens, and the main door was leading in from the lobby entrance which they kept locked. When I got to the main gate I realized the key I had could not open the gate no matter how hard I tried. Here I was on a dark road inching closer to the early morning hours, with no way to get into the comfort of my own bed. The only logical thing to do was to FaceTime my sister despite the time difference and drunkenly explain the hilarious situation I found myself in. While I was FaceTiming her, I decided the next logical thing to do was climb the very tall black metal gate and pray that there were no alarms set. 
I won't deny the climb up and over was anything but graceful. At the time I thought I was Angelina Jolie playing Lara Croft but the scars in the morning told a different story. I landed in some bushes and then walked proudly to the main entrance door, leading into the lobby only to find I didn't have the keys to this door. Laughing and thinking, perhaps I should have declined the last passionfruit mezcal, I remembered I left the patio doors unlocked in my hotel room. I then (for the second time that night) broke into my hotel room and made it safely to my bed. I had big plans tomorrow of exploring the city by motorbike and getting a tattoo before a friend picked me up to head to a neighboring city. And all I could think of was... Damn, those passionfruit margs were good.
Medium: Faber-Castell Polychromos Color Pencil Painting, Caran D-Ache Luminance, and Derwent Lightfast Oil-based Coloured Pencils.

Paper: Strathmore Artist Tiles | 6" x 6" | 15.3 x 15.3 cm | 60 lb. | 160 g/m2 

Original: Includes professionally framed in a white frame, acid free, straight fit, Ultravue 70% glass and acid free backing with a wire backing. Bio, Certificate of Authenticity, and their individual story. 
Size:  6" x 6" | Framed 7 ⅛" SQUARE and ¾" deep
Pre-Order Limited Edition Print to Canvas: I have my artwork professionally scanned locally here in Vancouver, B.C. and printed to canvas using eco-solvent inks with a satin finish, gallery wrapped, and saw hook. Bio, Certificate of Authenticity, and their individual story is also included.
Size: 6 x 6 inches
Image Disclaimer: The actual product may vary from the image shown on this page. Every interface, monitor, browser or display will have different variations and capabilities to display textures, colours and finishes and the image should not be relied upon in that regard. We cannot guarantee an exact match between what is illustrated in the image and the true textures, colours and finishes of the actual product.