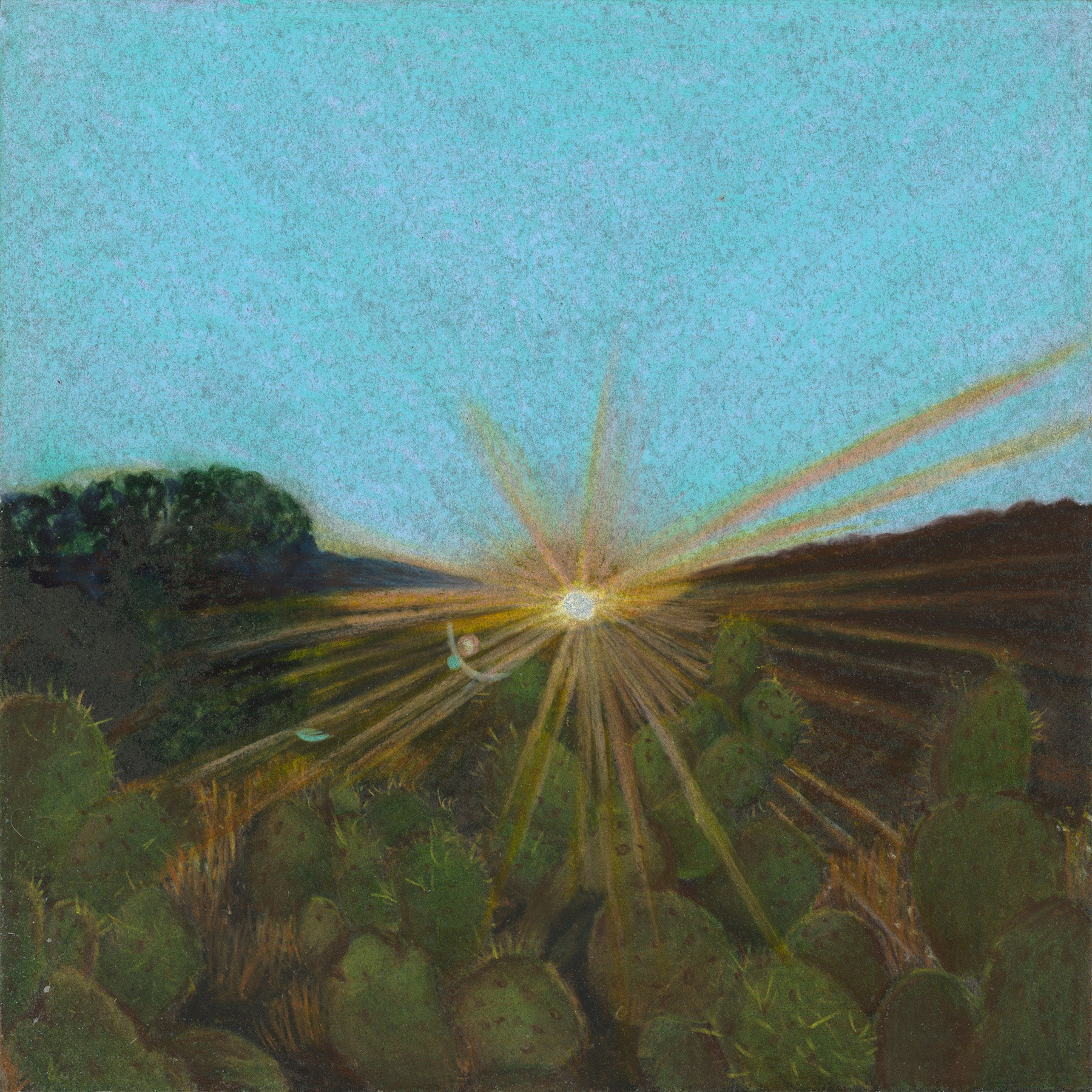 Description
Medium & Paper
Print Options
We opened the trip with our own ritual. Burning palo santo to purify the space, homemade margaritas and a shot of tequila to unwind, and a sharp sniff of amazonian snuff to clear the mind. 
I woke up the next morning to the mysticism and beauty that is Joshua Tree. When we were ready for our journey, we all sat on the floor around the living room table. We spoke out loud our intentions for the trip, before placing the brightly coloured tabs of acid on our tongues.
Before it began to hit us, we drove out into the desert. We began an unknown hike under the warm spring sun. I felt giddy and filled with childlike curiosity. The hike ventured carved-out paths through slab and sand - you could've told me we were in the Middle East and I would've believed it. I was enamored by the wild trees and unique plants, entranced by the patterns in the rock. We put our hands on it to share in the energy and magic it seemed to hold.
Our trip began to peak, as did our path. We were suddenly hiking up a rocky mountain, not sure where it led. My jaw dropped as we made it to the top. A majestic mountain range lay before us, hidden until this very moment. I wasn't sure if it was the majesty of nature, or the drugs, (or both), but I felt like I had never seen something so beautiful. The air felt different - it tingled with the energy from the sunshine blanketing the mountains. After marveling at the view, our friend invited us to join him in breathwork. We each chose a spot, cosied up among the rocks. I held the earth to ground myself. My first true breathwork session, and I ended light-headed, teary-eyed, and buzzing on a new kind of high. The intentions, the setting on top of the desert mountains, the amazing group of people, the breathwork, the LSD - the experience was spiritual.
Medium: Faber-Castell Polychromos Color Pencil Painting, Caran D-Ache Luminance, and Derwent Lightfast Oil-based Coloured Pencils.

Paper: Strathmore Artist Tiles | 6" x 6" | 15.3 x 15.3 cm | 60 lb. | 160 g/m2 

Original: Includes professionally framed in a white frame, acid free, straight fit, Ultravue 70% glass and acid free backing with a wire backing. Bio, Certificate of Authenticity, and their individual story. 
Size:  6" x 6" | Framed 7 ⅛" SQUARE and ¾" deep
Pre-Order Limited Edition Print to Canvas: I have my artwork professionally scanned locally here in Vancouver, B.C. and printed to canvas using eco-solvent inks with a satin finish, gallery wrapped, and saw hook. Bio, Certificate of Authenticity, and their individual story is also included.
Size: 6 x 6 inches
Image Disclaimer: The actual product may vary from the image shown on this page. Every interface, monitor, browser or display will have different variations and capabilities to display textures, colours and finishes and the image should not be relied upon in that regard. We cannot guarantee an exact match between what is illustrated in the image and the true textures, colours and finishes of the actual product.