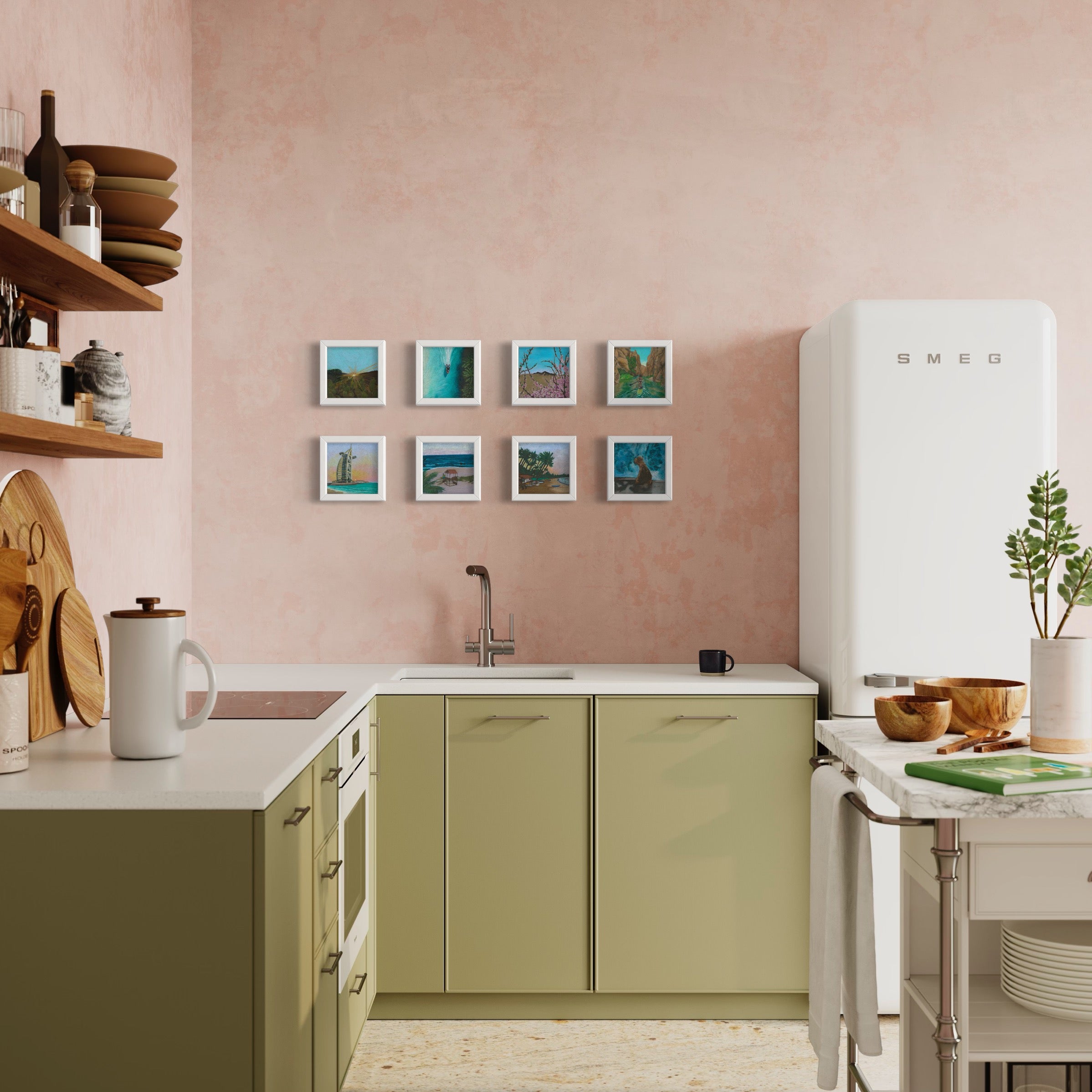 Description
Medium & Paper
Print Options
Recollecting a funny story is never really that funny. Because, what really is funny? 
Is it a group of kids making a ramp in an inclined alley to practice jumps on bicycles that are too small for them? And one shows off, who loves extreme sensations (me), and rides the hardest resulting in a broken forearm. Then, gets a hot pink cast and decides to play volleyball, which includes bumping the ball off that pink cast, while being the tallest person on the court. 
Or is it being in Greece and deciding it's a good idea to learn to drive manual for the first time there. Then driving into the town of Athens for a sexy night out and finding myself on top of a 70 degree incline hill and stalling 100 times, holding up a long line of traffic. People are honking at me, also wanting to have a sexy night out. It was so bad that someone even asked if they could move the car for me. But no, of course I can do it. So, as I excitedly smoked my cigarette waiting for the traffic light to change only for me to stall out the entire green to red cycle, I laughed at my stupid resilience and confidence. While my friend in the passenger seat is so embarrassed, yet can't help because they don't know how to drive manual. Others laughed too - at least I didn't roll backwards and hit another car. Eventually, I got the momentum and the night we had was epic. 
Moral of the story… respect the incline, always bounce back and enjoy the wicked laughter throughout the journey.
Medium: Faber-Castell Polychromos Color Pencil Painting, Caran D-Ache Luminance, and Derwent Lightfast Oil-based Coloured Pencils.

Paper: Strathmore Artist Tiles | 6" x 6" | 15.3 x 15.3 cm | 60 lb. | 160 g/m2 

Original: Includes professionally framed in a white frame, acid free, straight fit, Ultravue 70% glass and acid free backing with a wire backing. Bio, Certificate of Authenticity, and their individual story. 
Size:  6" x 6" | Framed 7 ⅛" SQUARE and ¾" deep
Pre-Order Limited Edition Print to Canvas: I have my artwork professionally scanned locally here in Vancouver, B.C. and printed to canvas using eco-solvent inks with a satin finish, gallery wrapped, and saw hook. Bio, Certificate of Authenticity, and their individual story is also included.
Size: 6 x 6 inches
Image Disclaimer: The actual product may vary from the image shown on this page. Every interface, monitor, browser or display will have different variations and capabilities to display textures, colours and finishes and the image should not be relied upon in that regard. We cannot guarantee an exact match between what is illustrated in the image and the true textures, colours and finishes of the actual product.