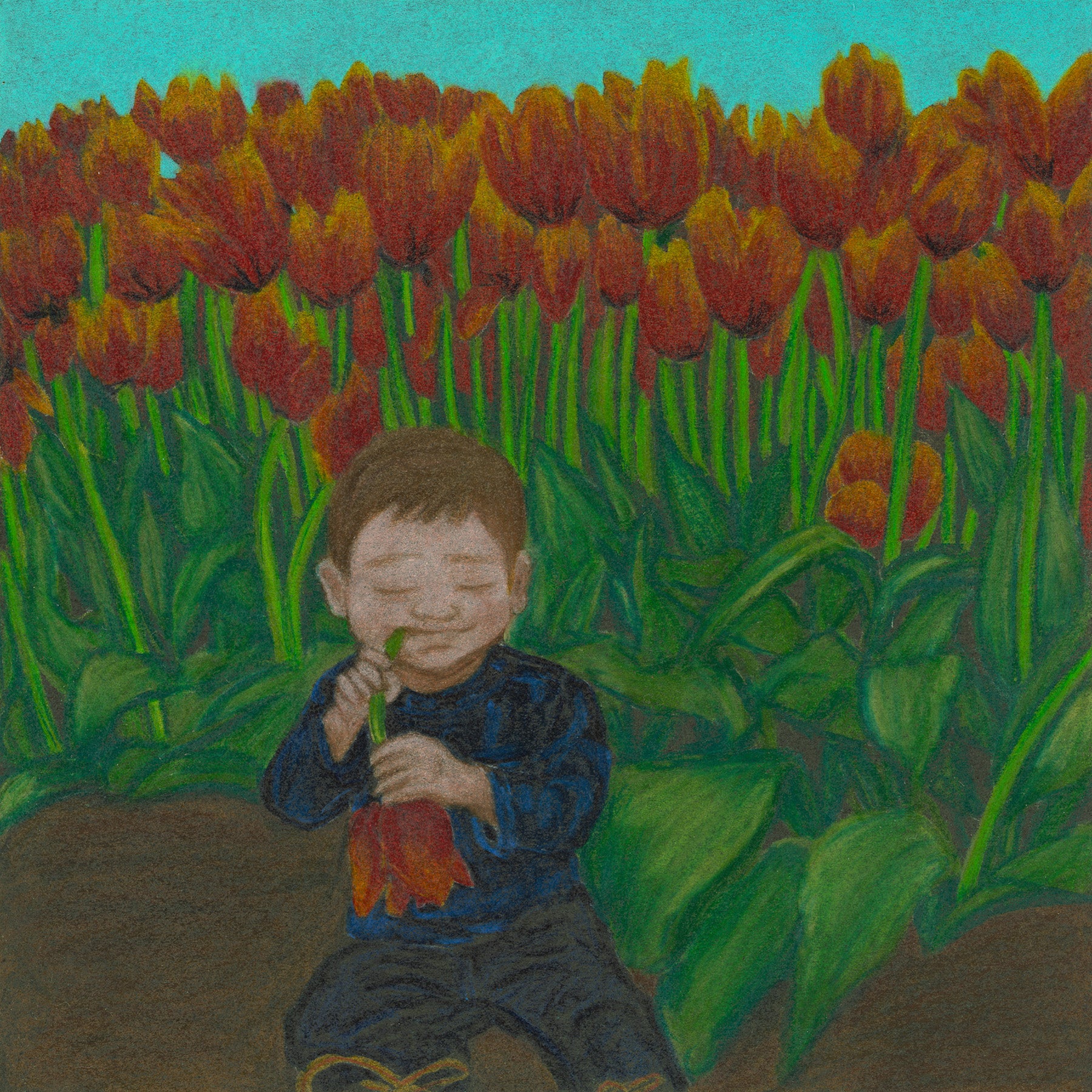 Description
Medium & Paper
Print Options
When covid first reared its ugly head, my wife and I decided to invest in some home exercise equipment and general wellness apparatus. With the option of an outside/physical gym space firmly out of the question, I had to navigate my workouts around our Vancouver-sized living space and newly walking toddler, who learned to walk on a Monday, run by Wednesday and was determined to climb everything in the house by Friday.
 He would climb the cabinetry as I was doing pushups and try to jump off the counter, making me catch him mid-air like a hail-Mary Super Bowl Touchdown. He'd also climb on top of me mid-exercise and try to pull me off-balance like a tiny MMA fighter, gurgling with glee as I collapsed. Due to this funny little obstacle, I never quite managed to get through a full set of anything. As you can imagine, my fitness regimen was severely impacted but damn, did I laugh a lot.
 One particular day I had just finished working out when my little dude came up to me, wanting me to pick him up and dance with him. I put down my shake and picked him up but by the time I'd said "Hey Google" there was a loud, hollow thump and 'blurp' sound right next to me.
 As anyone who has a toddler knows, they are lightning fast…especially when it comes to creating a mess. In the one moment that it had taken for me to look over my shoulder, he had reached for my shake, exploring what happens when you pull a plastic container off the counter. It had slid off and miraculously landed standing straight up, fully standing. You may think this would be a good thing, but you'd be wrong.
 Somehow, like Captain America's shield, the liquid in the container defied the laws of physics and shot up like an angry volcano. It had rocketed up 12 feet, from floor to roof and hit the ceiling with a  'SPLAT'. By the time I realized what happened, green ooze was dripping from the kitchen roofing like a melted jade stalactite. It was EVERYWHERE. Frozen fruit, supplements, chia, hemp hearts, protein powder and spirulina.
 So here I am, holding this little beast (who is laughing hysterically) with green sludge now covering the floor and ceiling while my wife and I immediately started trading him and cleaning supplies back and forth all while trying to keep him out of the pool of health-food goop in our common space. On a side note, the ceiling was white so it took a combined total of 3 weeks and 8 ladder cleans until we could no longer see smoothie streaks. 8 ceiling cleans…just in case you were wondering. Fucking spirulina.
 The moral of the story here isn't 'keep an eye on your kids' (but definitely keep an eye on your kids)...no, the moral is something someone said to me once that really stuck with me. They said that there's a day that you pick up your kid for the last time. That hit me like a ton of frozen fruit. Almost 3 years later, he's a strapping, huge little 5-year-old who still wants me to tickle his tummy, cuddle in an egg-chair and most importantly, he still wants me to pick him up.
 Although I may have had an exhausting day, I will always find the time to do it because the day is coming when he won't want me to. He'll be too big, or too cool or too indifferent…but today, he wants me to lift him off the ground, bury his face into my neck and for me to be his jungle gym and if it means I get another chance to pick him up, I'll clean spirulina off the ceiling every day. I just really hope I won't have to.
Medium: Faber-Castell Polychromos Color Pencil Painting, Caran D-Ache Luminance, and Derwent Lightfast Oil-based Coloured Pencils.

Paper: Strathmore Artist Tiles | 6" x 6" | 15.3 x 15.3 cm | 60 lb. | 160 g/m2 

Original: Includes professionally framed in a white frame, acid free, straight fit, Ultravue 70% glass and acid free backing with a wire backing. Bio, Certificate of Authenticity, and their individual story. 
Size:  6" x 6" | Framed 7 ⅛" SQUARE and ¾" deep
Pre-Order Limited Edition Print to Canvas: I have my artwork professionally scanned locally here in Vancouver, B.C. and printed to canvas using eco-solvent inks with a satin finish, gallery wrapped, and saw hook. Bio, Certificate of Authenticity, and their individual story is also included.
Size: 6 x 6 inches
Image Disclaimer: The actual product may vary from the image shown on this page. Every interface, monitor, browser or display will have different variations and capabilities to display textures, colours and finishes and the image should not be relied upon in that regard. We cannot guarantee an exact match between what is illustrated in the image and the true textures, colours and finishes of the actual product.