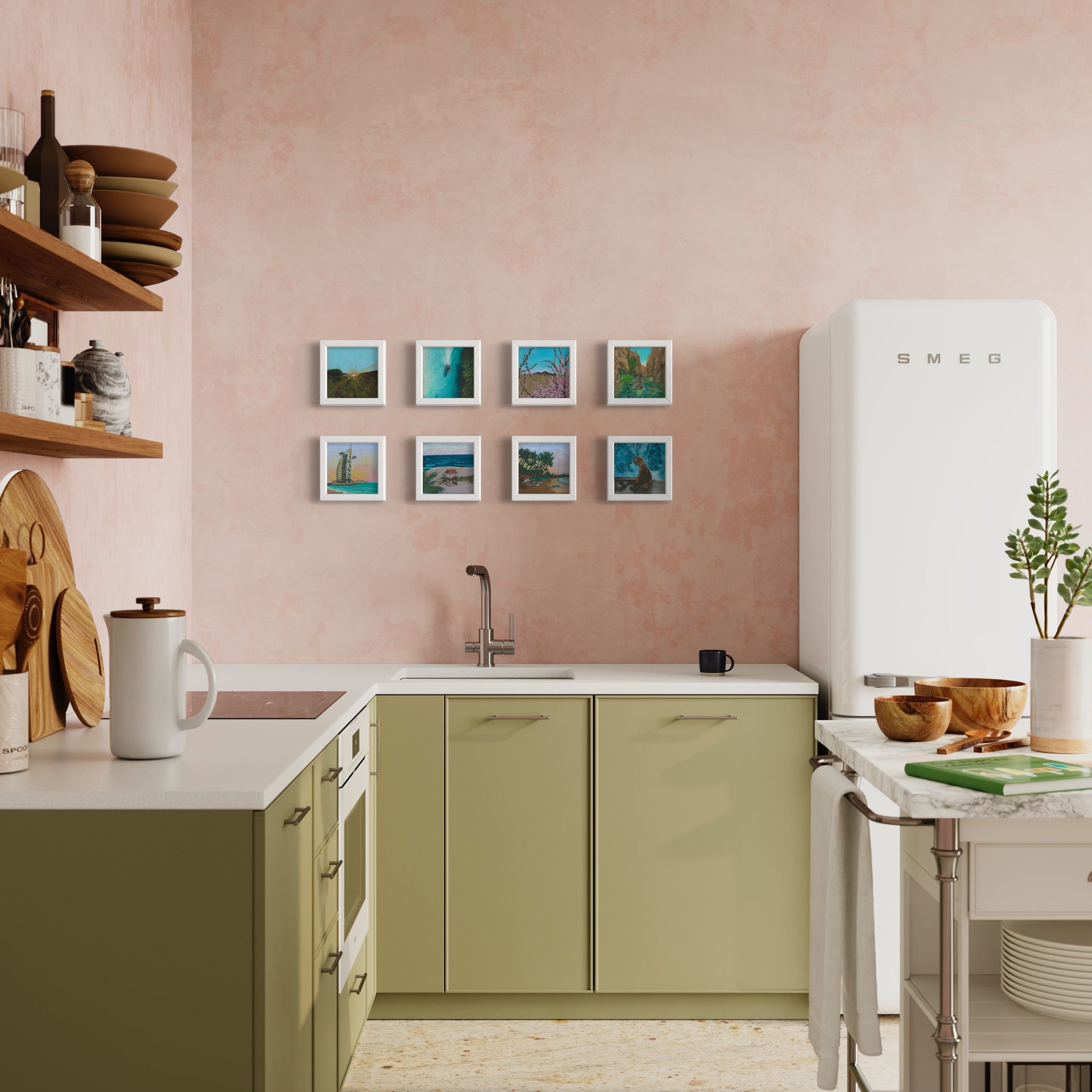 Blessed with a Strong Will
Description
Medium & Paper
Print Options
I was born in a small town in Germany in 1967 and grew up on my parents' dairy farm. Farm living gave me joy and allowed me to work, love the outdoors, roam forests, and observe birds and other wildlife.  I loved horses.  I also competed locally and regionally in gymnastics.
In the mid 1970's, the construction of a water reservoir changed some of the pastures we owned.  There was a chance we as a family might have to relocate, so my parents considered Canada.  While in the end we stayed in Germany, my parents bought property near Fort St. John in 1978, and my dad brought me to Canada for the first time in 1980, when I was 13.
As somebody who loved the outdoors and wildlife, visiting northern BC was like a dream come true and, thinking back, I believe I decided then that one day I would want to live in Canada.
My life changed on January 10, 1984, when a few months before my 17th birthday a friend and I experimented with explosives and caused an explosion in which I became completely blind. I also had very serious hand injuries and despite ending up in the care of one of the best hand surgeons in Germany, I lost 2 fingers on my right hand and 3 on the left. For the first few weeks after the accident my parents felt like some part of their world had come to an end and it was of course a difficult time for me as for months I could not even feed myself. In time my hands healed, and I discovered that I was blessed with a strong will to regain my independence and my positive attitude helped my family to come to terms with what had happened. Having been a competitive gymnast for many years as well as riding horses meant that I was not only physically very fit, but I also possessed an excellent sense of balance and orientation. I was so familiar with our farm that I soon started again to do some of my chores like feeding the calves and horses and cleaning out the horse stalls. I started riding again and also again went for long walks in the forest and across the fields and never did I become lost to the point that I could not find my way home again.
Throughout 1984, I had to undergo many additional surgeries on my hands and only a year later I started going back to school. About 1.5 hours away from my hometown in the city of Marburg is a very well-known school for the blind and I first spend 1 year learning skills I would need in school and later in life. This included learning Braille, learning how to properly touch type which back then of course was on a typewriter and not a computer. I also had many hours of so-called O&M training (orientation and mobility) where I was taught how to correctly use a white cane and to learn to safely cross street and traffic lights by listening to the flow of the traffic. During the final months of this program, I already started attending Grade 10 classes again and at the beginning of 1986 I was finally back in high school full-time. As Marburg was too far to commute every day, I lived in a house with 8 other students. 
Relatively soon after my accident I felt that my dream to one day live in Canada was still very much alive. My journey to living in Canada evolved from 1986, when I booked a 4-week language course at a private school in Toronto, to traveling across Canada by Greyhound, to taking the ferry from Prince Rupert to Port Hardy, to hitch-hiking my way around Vancouver Island.  I graduated from the University of Calgary and started an Outdoor Essentials store in beautiful Smithers, BC!  During these years I had the great fortune of meeting my guide dog, Buddy, and so many excellent people.  Now, even after 23 years and a move to a new, larger store in 2020 I am still enjoying the retail business.
I met my beautiful Philipina wife Jackie in 2018.  Life together is a blessing yet because of Jackie suffering from Epilepsy it has its challenges. After two brain surgeries Jackie's seizures have somewhat lessened, but unfortunately the second operation also had the unexpected side effect of Jackie having lost some cognitive capacity; now a year and a half later a little of this has come back, and we just have to learn to live with it the same way I had to learn to live without my sight.
Medium: Faber-Castell Polychromos Color Pencil Painting, Caran D-Ache Luminance, and Derwent Lightfast Oil-based Coloured Pencils.

Paper: Strathmore Artist Tiles | 6" x 6" | 15.3 x 15.3 cm | 60 lb. | 160 g/m2 

Original: Includes professionally framed in a white frame, acid free, straight fit, Ultravue 70% glass and acid free backing with a wire backing. Bio, Certificate of Authenticity, and their individual story. 
Size:  6" x 6" | Framed 7 ⅛" SQUARE and ¾" deep
Pre-Order Limited Edition Print to Canvas: I have my artwork professionally scanned locally here in Vancouver, B.C. and printed to canvas using eco-solvent inks with a satin finish, gallery wrapped, and saw hook. Bio, Certificate of Authenticity, and their individual story is also included.
Size: 6 x 6 inches
Blessed with a Strong Will
Image Disclaimer: The actual product may vary from the image shown on this page. Every interface, monitor, browser or display will have different variations and capabilities to display textures, colours and finishes and the image should not be relied upon in that regard. We cannot guarantee an exact match between what is illustrated in the image and the true textures, colours and finishes of the actual product.