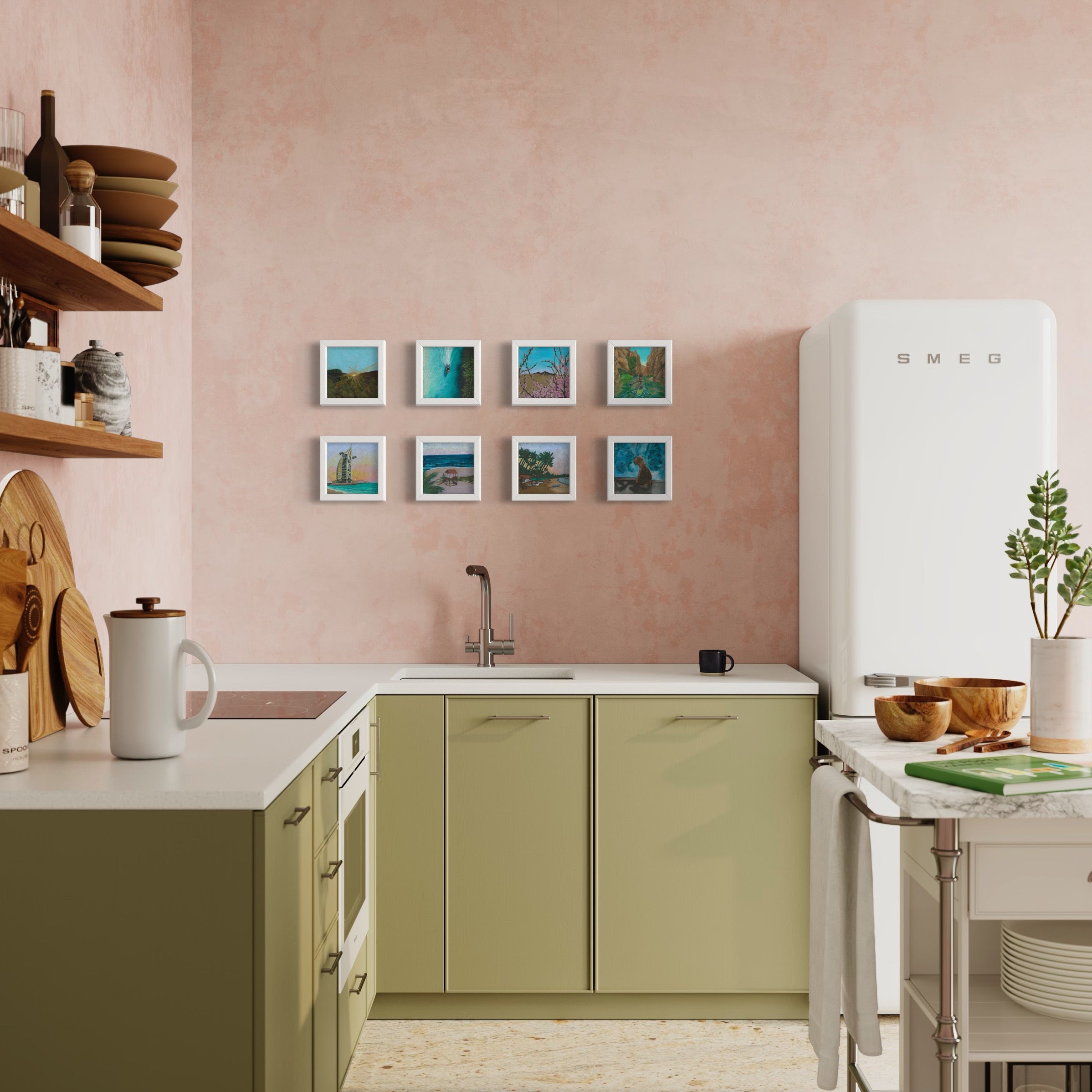 Description
Medium & Paper
Print Options
My father was relentlessly passionate about life, knowledge, language, people and experience. I remember the first time I went to Greece, his homeland, and felt that contagious appetite for life in everyone I met. The people in the streets seemed wild with life, full of expression and passion for the moment. It is a lifestyle and culture that totally excited every aspect of me. There is a certain zest for life and community that is just so vibrant - I mean, people gather at the Platea (municipal squares) simply to be together and enjoy each other, creating a culture of closeness and enthusiasm. Even the language is full of poetic expressions - strangers will wish you 'off to the good may you go' normally… And that's a stranger so imagine how loved ones communicate. It's beautiful.
 The elders wake up early to water the gardens for fertile seeds to grow and the youth play all day. And always, they dine together, spending hours at the table eating soulfully cooked meals. As we sit together, we loudly share our thoughts, stories, fears, and truths: our words flow as a melody of emotions that pour over the food to bless it with sacred appreciation and honesty.
Medium: Faber-Castell Polychromos Color Pencil Painting, Caran D-Ache Luminance, and Derwent Lightfast Oil-based Coloured Pencils.

Paper: Strathmore Artist Tiles | 6" x 6" | 15.3 x 15.3 cm | 60 lb. | 160 g/m2 

Original: Includes professionally framed in a white frame, acid free, straight fit, Ultravue 70% glass and acid free backing with a wire backing. Bio, Certificate of Authenticity, and their individual story. 
Size:  6" x 6" | Framed 7 ⅛" SQUARE and ¾" deep
Pre-Order Limited Edition Print to Canvas: I have my artwork professionally scanned locally here in Vancouver, B.C. and printed to canvas using eco-solvent inks with a satin finish, gallery wrapped, and saw hook. Bio, Certificate of Authenticity, and their individual story is also included.
Size: 6 x 6 inches
Image Disclaimer: The actual product may vary from the image shown on this page. Every interface, monitor, browser or display will have different variations and capabilities to display textures, colours and finishes and the image should not be relied upon in that regard. We cannot guarantee an exact match between what is illustrated in the image and the true textures, colours and finishes of the actual product.